Travelling is fun. You get to meet so many people belonging to different backgrounds and age groups. Now, as you are travelling from Delhi to Varanasi, you meet a man in his seventies."I have worked for the Indian Railways for about 30 years. I never expected that one day I'd be sitting in a train like this!" he said, marvelling at the new fastest train in India, The Vande Bharat Express!!
The Vande Bharat Express, also called Train 18, was flagged off by Prime Minister Narendra Modi on 15th February 2019. It started its first commercial run on 17th February 2019 from Delhi to Varanasi, a journey of over 750 kilometres.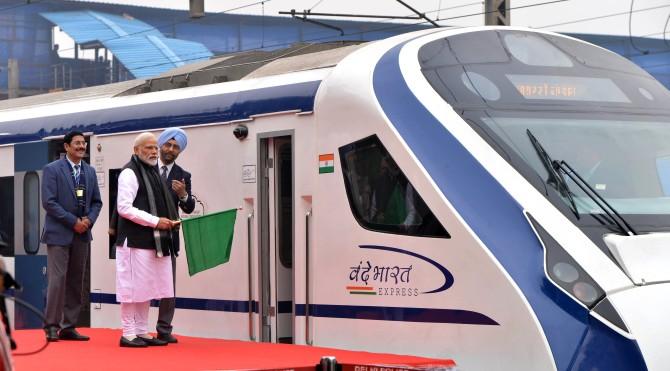 "Vande Bharat Express left Delhi for Varanasi today morning on its first commercial run. Tickets sold out for the next two weeks already. Get yours today," Union Railway Minister Piyush Goyal tweeted.
Manufacturing and other characteristics
The Vande Bharat Express was designed and built by Integral Coach Factory (ICF) Chennai under the "Make in India" initiative for over a span of 18 months. It is estimated to be 40% less costly than a similar train imported from Europe.
Train 18 has an aerodynamic narrowing at each end of the train. It has a driver coach at each end of the train, allowing for faster turnaround. The train has 16 passenger cars, with a seating capacity of 1,128 passengers. Two of the centre compartments are first class compartments seating 52 each with the rest being coach compartments seating 78 each. Train 18 employs a regenerative braking system, expected to allow a 30% savings in electricity costs.
At an operating speed of 160 kmph, the Vande Bharat Express can outpace the Shatabdi Express by 30 kmph. Although the train has been tested for speeds up to 180 kmph, operational speed has been capped at 160 kmph.
Below are the fares, as available on the IRCTC website:
Delhi to Varanasi (AC Chair Car, Executive): Rs 1,755 and Rs 3,300
Delhi to Kanpur (AC Chair Car, Executive): Rs 1,080 and Rs 2,085
Delhi to Allahabad (AC Chair Car, Executive): Rs 1,385 and Rs 2,725
Varanasi to Delhi (AC Chair Car, Executive): Rs 1,700 and Rs 3,250
Varanasi to Allahabad (AC Chair Car, Executive): Rs 545 and Rs 1,050
Varanasi to Kanpur (AC Chair Car, Executive): Rs 860 and Rs 1,690
Passengers have the opportunity to binge on lunch from Allahabad's Pind Balluchi, the dinner will be from Kanpur's 5-star hotel, Landmark. The tea will be from Chaayos. Other mouth-watering items on the breakfast and evening tea menu include muffin, croissant, bruschetta, vegetable quiche, doughnut, vegetarian baked samosa and much more!
The Breakdown Incident
On its way back to Delhi, the Vande Bharat Express broke down mid-way. It occurred around 15 km from Tundla junction and was stuck for over an hour for repair works, early in the morning. "It was a case of skidding wheels after the train ran over cattle," Northern Railway CPRO Deepak Kumar said. While it can gallop at speeds up to 160 kmph, its speed was capped at 130 km/hr due to weather and track conditions.
Citing this incident, Congress President Rahul Gandhi tweeted, "Modi Ji, I think Make in India needs a serious rethink. Most people feel it has failed. I assure you we, in the Congress, are thinking very deeply about how it will be done."
In a quick response, Goyal tweeted, "Such a shame that you choose to attack the hard work and ingenuity of Indian engineers, technicians, and labourers. It is THIS mindset, which needs a reset. 'Make In India' is a success and a part of crores of Indian lives. Your family had 6 decades to think, wasn't that enough?"
Future Plans
Train 20 is the successor project to Train 18, envisioned as a replacement for long distance intercity sleeper train services like Rajdhani Express. Upgraded features of Train 20 include:
aluminium body for weight savings
beds instead of seats-only
top speed of 176 km/h
made by a global firm such as Alstom, Bombardier, Talgo