Hola Amigos!
I know when we hear Spain, we all go tap dancing thinking about European streets, Spanish folks singing and dancing…Mediterranean cuisine like Tortilla Española, Pasta, and of course Churros!!! But hold on…a Spanish oasis, well yeah Spain offers a perfect beach vacay too. No, it's not your regular island and we're not gonna woo you by telling you about the clear blue waters and stuff. Sure it provides some breathtaking views but what if I tell you that it's a wonderful site to experience a volcanic landscape too.
Sunny Days
Gloomy weather is a nightmare while traveling and while on a beach its a big mood spoiler. That's why this place is a big check! check! as it's a burst of guaranteed sunshine bright round the year here. So don't forget to put loads of sunscreen lotion coz it can get hot, not too hot like a tiresome day but hot like 20°-22°C. For sure an ideal temperature to take a dip in those crystal blue waters and relax with chill vibes, right?
We can go on and on about the beaches here and won't regret, won't be tired. As if you'll go on and explore, you'll realize that this hidden treasure is a sight to behold forever.
1. Playa Francesa
Hop on to a ferry Órzola to La Graciosa, the Canary Islands unofficial eighth isle. And don't get all scared from the fleets, they are not pirates but are some luxury-loving yacht people.
Enjoy with: Your Lovely Families, groups of friends
To do: Along with enjoying the salty breeze here, you can also explore the magical deep seas as it's a great spot for snorkeling enthusiasts.
2. Playa de Papagayo
This place can be a little bit of what you can call, a misnomer. You'll find a lot of Papagayo. But you can reach there without much fuss if you go east from Playa Blanca.
Tag along: Families and friends
To do: Best place for young swimmers and snorkelers.
3. Playa Caletón Blanco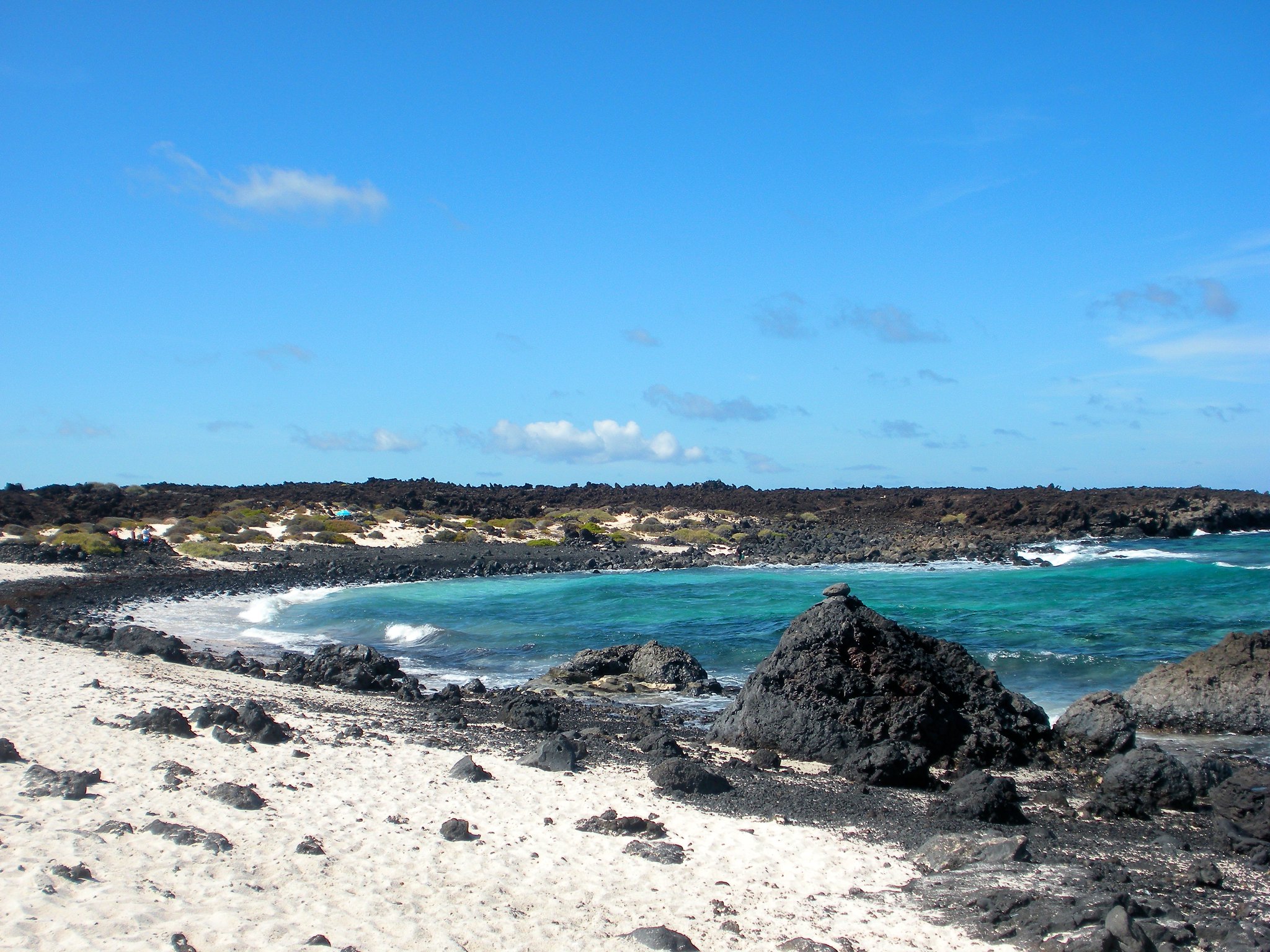 Don't miss out on this one, as most of the visitors do. Lanzarote's north coast has a stretch of shoreline. The beauty of ebony, black lava rocks, and bone-white sand paints the shore of this soothing site. A must-visit for sure! Some stunning natural pools are a paradise for swimmers.
Go on with: families and friends of course and especially those who love to explore nature.
4. Playa Flamingo
Beach Vibes and everything nice! Keep your beach essentials like flip-flops take a sip of your fav drink and relax. Or you can go to a bar or restaurant, and never miss a chance to stay close to the view and your loved ones.
Don't forget them: Families, groups of friends, or go solo if you want.
5. Playa de las Conchas
One another beach with amazing waves and water. Looking at those wonderful neighboring isles is just soo peaceful. Sit back and experience things slow and calm.
Best for: Naturists, nature lovers, couples.
Not tired of discovering more of them? Explore More!
You Won't Wanna Miss this
Timanfaya National Park
The most significant tourist attraction is this UNESCO Biosphere Reserve. Black volcanic sand all around, a magnificent black scenery. This place looks as if out of this world as it has some moon-like terrains. In 1993, this place was used as a training base for Nasa's Apollo 17 crew. The heart of this national park is the Islote de Hilario volcano. Explore this place and drive-by in a bus as it's not that adventurous on foot.
Lip-Smacking Spanish Cuisine
No doubt you'll get all those Mediterranean flavors here, this place won't disappoint at all. Culinary experts here are all set to take you on a delicious expedition. Canarian Potatoes with Red and Green Mojo, Limpets, Grilled Octopus, Local fish a la plancha, and Gofio are all a must treat for your tastebuds.
Vineyard alongside Volcanos
Sipping Spanish vine near a volcano sounds thrilling and trust me it's a once in a lifetime experience one can never forget about.
Pack your Bags!
So what you are waiting for. This island awaits for all you adventure. An out worldly expedition that will stay with you forever.
For more Travel Blogs check on our Travel domain. Also, check out Best Place To Visit In Bali.
All images belong to their respective owners.