Want to get your taste buds tickled? , What better way there can be if not for an Ice-cream Truck full of tickle treats!
The Tickle Truck, It's not just an Ice-Cream Truck. This Truck has flavors and the types of Ice-creams you wouldn't even have heard of. This truck takes your Ice-cream treat this summer to a whole another level. Instead of offering the traditional Ice-creams, they decided to invent something unique. Something to tickle your buds and also your Heart, so that you come craving for more.
The few of the mouthwatering treat they have for you are
Pop-Tickles
Cream-Tickles
Ticklodas
Tickledaes
Tickle-wiches
Poptickles are Ice-Sticks with a twist! Ever tried an ice-stick with crushed strawberries or tangy orange juice, wait ever thought of Ice-stick soaked in the goodness of almonds and saffron in thick mango pulp. Already thinking of going to the truck? Well, You forgot about their Cream-Tickles, The ice-cream in the frozen land offering a variety of savory flavored Ice-cream.
This truck was started by Barath Jaiyanth, Jesvin Prabhu, Shanmugapandian, they all are Viscom Loyola college students.
"As Food-trucks have started picking pace in India, we went for the food truck instead of a normal shop," Barath Said to the Neuronerdz.com
It is their first truck. They did a lot of research in trying to make their truck stand apart from the crowd. Doing different something different with the ice-cream. Trying to make something that should be unique and at the same time should taste natural.
Their emblematic Ice-creams include
Mystery More spicy buttermilk popsicle with Kaara boondhi and masala
Mad Mojito smeared with the lemon, mint leaves and masala
Yummy Strawberry made with crushed Strawberries sorbet pops
Enigmatic Charcoal which is activated charcoal popsicle with coconut milk
They had lots of ups and downs. They face a lot of problems since it has been only 6 months into this new business. But this doesn't stop them due to their positive attitude and mantra of  'Learning and moving forward' the truck is a big success. Many people call them and they are doing 3-4 events every month.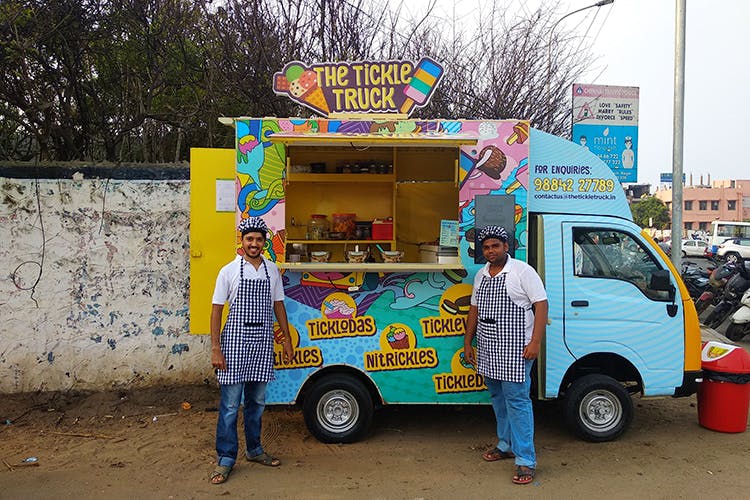 Their Parents are also very supportive of this new line of business their children have taken. As they know that they are doing something different and in doing that they are learning something new every day.
Their vision is to have at least 8 branches in places like Chennai, Hyderabad, Bangalore, and many more places. They are looking forward to having a big truck so that people came even walk inside it and have a really different experience. They always focus on some weird imagination to stand out and yet be a great success.
"Don't want to be lost in the crowd, want to rise above it providing something unique" – words of Barath from The Tickle Truck.
You can always find the truck parked at Besant Nagar Beach, Tuesday to Sunday from 5pm to 11pm.
Feel free to contact Barath Jaiyanth(Owner of The Tickle Truck): 9841076919