Barbie
and the European Space Agency (ESA) have partnered to inspire girls. Similarly, to become the next generation of astronauts, engineers and space scientists. In addition, to work in the field of S-T-E-M. Similarly, the latest phase of the dollmaker's 'Dream Gap Project.'  Transformed astronaut into Barbie dolls.
Moreover,
ONLY 15 PERCENT OF ACTIVE ASTRONAUTS IN THE WORLD ARE FEMALE
. As a result, 50 years on from the first person landing on the moon.
NO WOMAN HAS EVER LANDED ON THE MOON

.
ASTRONAUT TRANSFORMED INTO BARBIE DOLL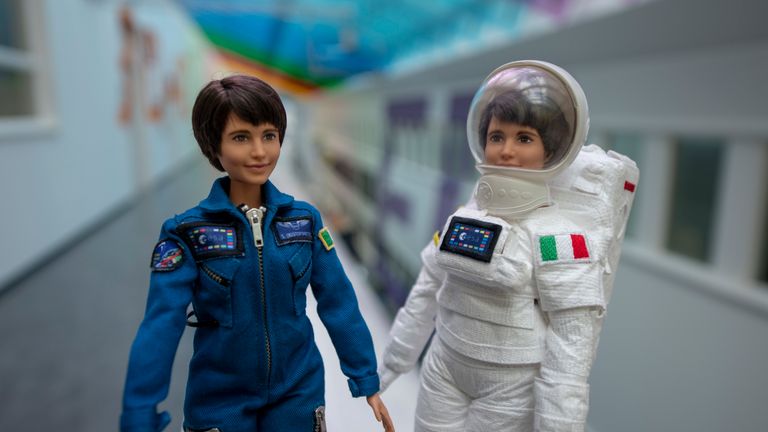 The ESA has only
one active astronaut.
She is
SAMANTHA CRISTOFORETTI

.
She was honored last year as a
ROLE MODEL
at the launch of
BARBIE'S DREAM GAP PROJECT.
Therefore to highlight the lack of female astronauts. In addition, the company behind Barbie- Mettel has made a special one-of-a-kind doll for Cristoforetti.
The astronaut hopes her collaboration with Barbie. "Will help the young girls and boys to dream about their future without limits."
The programs are part of the brand's commitment to honoring women who have crossed certain boundaries. Above all to inspire new generations of girls.
This collaboration is part of
BARBIE'S DREAM GAP PROJECT,
a global initiative. The goal is to increase awareness and attention to the factors that currently prevent girls from expressing their full potential.
So, Barbie's goal is to bring to attention positive role models that show girls that they can be all they want and help them close the Dream Gap, S-T-E-M for instances.
Isabel Ferrer, European Director of Marketing at Barbie says: "We are proud to launch this collaboration with ESA with a specific goal: to inspire girls to become the next generation of astronauts, engineers, and astrophysicists. Barbie has always shown girls that they can be anything they want, giving them through play, the opportunity to play different roles and an infinite number of careers, encouraging the imagination and expression of their personality. We know how important it is for girls to have positive reference models and this new collaboration with ESA helps us to raise our goal to astronomical levels."
Cristoforetti is a 42 years old aviator, engineer, astronaut. The FIRST ITALIAN FEMALE CREW MEMBER OF THE EUROPEAN SPACE AGENCY.
She is known for being the First person to brew an espresso coffee in space.
She has been in space for a total of 199 DAYS 16 HOURS AND 42 MINUTES.
 50th anniversary of Apollo 11's landing on the moon approaches 
As the 50th anniversary of Apollo 11's landing on the moon approaches. Consequently, a series of new motivational video pills dedicated to parents and girls has been launched to present the collaboration. After it found that parents lacked knowledge about space and S-T-E-M related careers for their daughters. As a result, Barbie addressed the issue by publishing a set of S-T-E-M tips for parents and caregivers.  After that has been written in conjunction with Dr. Elizabeth Kilbey, Consultant Clinical Psychologist working with young children and families.
As part of the partnership, a series of motivating new short-form videos aimed at parents and young girls. Which show Cristoforetti welcoming girls from Germany, UK, France, and Italy. Into the ESA European Astronaut Center in Cologne, Germany.
Additionally, there will be kids-targeted content on Barbie's YouTube vlogger channel highlighting Cristoforetti's achievements.
So where the problem arises for girls in the field of S-T-E-M? 
Italian research conducted by Barbie on the knowledge of parents regarding STEM subjects. Also, their awareness of space careers and role models in the field. As part of the new partnership, Barbie conducted a survey of 2000 parents, for instance.
They spoke to parents of 3-10 years olds in Britain to find out how many parents knew about Science, Technology, Engineering and Maths (S-T-E-M) careers for women.
So according to the data, 80% said they lacked basic knowledge of STEM careers.
4 in 10 said that would hold their daughter back from entering or learning about a career in science, In other words, because of their own lack of knowledge.
When asked about their knowledge of astronauts, almost all parents knew about men within the space industry, including Neil Armstrong and Buzz Aldrin.
Over half of the parents questioned had no idea of any of the names of the top female space astronauts.
"The one-of-a-kind dolls honor women who have broken boundaries," Ferrer explained. "Worldwide we are celebrating different women with different careers – the right role models inspire girls."