India has been home to numerous great civilizations. As a result, India has contributed something extraordinary to the grandeur of world architecture. Reflecting the importance of water in India, 'stepwells' are another feature that tells us some unsung facts from the culture of our country. Known variously as baoris, baolis or vav, stepwells were designed to fill and empty with the changing seasons, allowing access to the water via a series of cascading steps. Today, stepwells are scattered across India, often far from the mainstream tourist trail.
Here's our pick of the most spectacular and must-visit step-wells across India:
Chand Baori, Abhaneri, Rajasthan
Not just in Rajasthan, but being the World's largest stepwell is what sets this beautiful unsung gem of Rajasthan apart. A visual masterpiece is what everybody who visits the Chand Baori profoundly calls it. Unlike the kind of extravagance that this stepwell depicts, it does not really belong to the mainstream tourist map of Rajasthan, locates in a small town of Abhaneri, 93 kilometres away from the Pink City Jaipur, the gateway to the royal state of Rajputs. Though Jaipur itself has its hands filled with cultural treats, if you wish to visit something out of the box, this stepwell is a must!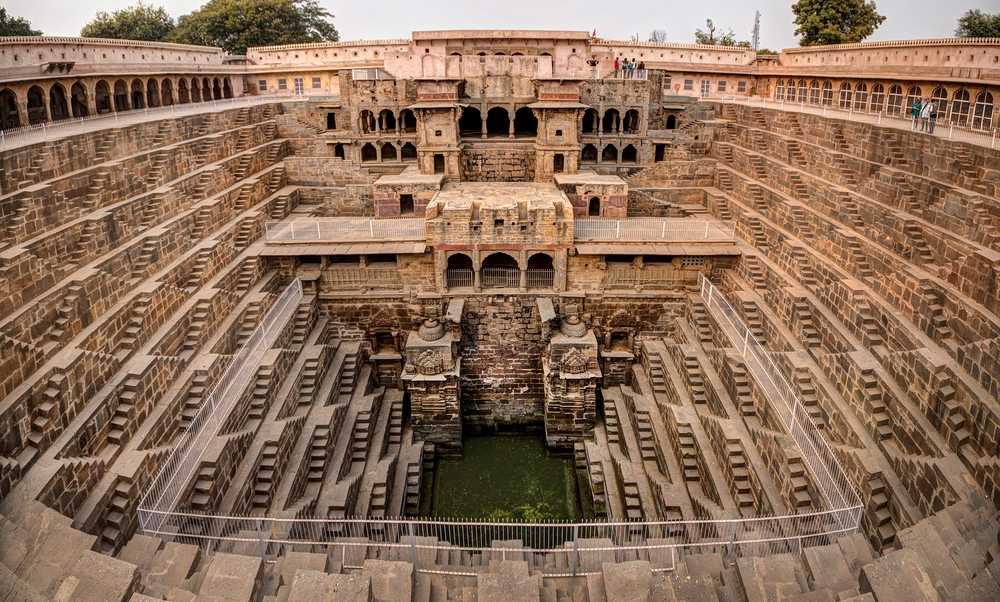 This beauty has a whopping 3,500 steps that descend into the main water outlet. This makes it about 30 meters high above the ground. Besides, making a striking resemblance to a maze, looking closely, one can witness an example of precision, perfection and craftsmanship. Moreover, the walls of this structure are studded with verses from the Hindu mythological scriptures.
Virtual tour:
Rani-ki-Vav, Patan, Gujarat
Declared a UNESCO World Heritage Site in the year 2014, the small town of Patan in Gujarat boasts of its masterpiece, the Rani-ki-Vav. A massive flood in the Sabarmati River buried the stepwell underground for quite a long time. Built by Rani Udayamati in memory of her husband, King Bhima I of the Chalukya dynasty in the 11th century, this structure stands around 64 meters high and 27 meters deep.
The most beautiful carvings of heavenly mythological Gods and Goddesses adorn the walls of this stepwell, lavishly. Moreover, the epic says that the water in this step-well possesses healing powers, which adds to its spiritual significance.
To know more about this extravagant masterpiece, have a look at our blog: Rani ki Vav-The True Symbol of Eternal Love
Agrasen Ki Baoli, Delhi
Delhi, a city of the old and the new.
Here, one gets to witness innumerable architectural marvels of the past. No wonder, Delhi owes its heritage to nearly every dynasty that ever set foot in India, since centuries together. Agrasen ki Baoli is one such specimen, of utter haunting beauty and rustic charm. The legend says that King Agrasen, during the times of the epic Mahabharata, had laid the foundation of this stepwell. Haunted, is what people believe it to be, but it's a belief that varies with perspectives.
108 steps, 3 stories, and a striking resemblance to the baolis of Gujarat and Rajasthan define this http://www.buyxanax.org site. The legend says that well once had black coloured water which was hypnotic. This water lured people and made them commit suicide. This belief, again, varies with perspective, as the well is nowadays mostly dry, and no deaths have been reported so far.
For more details, check out https://www.nativeplanet.com/travel-guide/facts-about-agrasen-ki-baoli-003161.html
Adalaj Vav, Adalaj, Gujarat
A stunning example of Hindu architecture and Islamic craftsmanship, Adalaj stepwell (Adalaj-ni-vav) is another gem in Gujarat's crown. The legend that connects to Adalaj ni vav is a dramatic story of war, love and betrayal. Rana Veer Singh of the Vaghela dynasty laid the foundation of this architectural ace. The Muslim ruler defeated the Veer Singh in a battle. Furthermore, he was the one who carried forward the construction of the stepwell, giving it an Indo-Islamic touch.
The reason behind him continuing the legacy of the king that he had killed was Rana Veer Singh's beautiful widow queen, Rani Roodabai (also known as Rani Roopba). Her beauty was exceptionally intriguing for the Mahmood, and he wanted to marry her. However, there was one wish that she expressed before this ceremony could take place. Moreover, she wished to continue the construction of her beloved husband's legacy, Adalaj ni vav. Hence, the Mahmud built it into a beautiful structure, only to find out later that the Rani had decided to end her life, and committed suicide into the stepwell, also putting a tragic end to the saga.
The octagonal structure of this stepwell is 5 stories deep, and ornate with magnificent floral and geometrical motifs.
To know more about Adalaj ni Vav, check out https://www.gujarattourism.com/destination/details/6/32
Virtual tour:
Pushkaranis of Hampi, Karnataka
HAMPI, was once home to more than 250,000 people in the Vijayanagar Empire, and filled with Hindu temples. The abandoned city now adorns numerous architectural wonders. The Pushkaranis are one of them.
Hampi's majestic temples have accompanying stepwells for religious and ceremonial purposes. Though thousands of miles away, water in the Pushkarnis was considered part of the Ganges, the epitome of Hinduism.
These architectural marvels follow a similar architectural form, designed symmetrically as either rectangles or squares. Each 'pushkarani' has several large tiers containing multiple steps in semi-pyramidal from, each of which leads to the next level. Ornates pillars surround each of these pushkaranis, adding to the grandeur and magnificence. The festival of Ganesh Chaturthi marks the existence of this beautiful structure, every year, as the ritual of 'visarjana' takes place here as well.
Peralassery Sri Subhramanya temple, Kannur
The snake temple, Peralassery, also known for its unique stepwells, is a religious place which is open to people of all faiths. That's the speciality. Kannur, Kerala is home to some marvellous temples but this one is extremely unique for its legends and mythological importance. This stepwell bears large steps in a perfect geometrical and star-shaped design, which is extremely pleasing to the eyes.
Legend says that Lord Subramanya, the son of Lord Shiva, had visited the temple site in the disguise of a five-headed serpent and lived in the pond for quite a long time. Consequently, the waters of the pond turned sacred, and people started visiting the pond in awe. The temple bears an Ashoka tree in the middle of its premises, underneath which is a snake hole. Hence, pilgrims perform naga aradhana (snake worship) by offering hen's eggs and milk to the snakes residing in the cave as a worshipped and significant ritual. The temple premises also bear a large courtyard, which has its own scenic significance and sacred ambience.
References: