What do you need to know?
Indian Prime Minister Narendra Modi starred alongside host Bear Grylls in the popular TV Show – Man vs Wild. It premiered on 12th August '19 (Monday) on Discovery Channel India at 9 pm. This is what Bear Grylls had to say before the show was aired:
"People from over 180 countries will have the chance to witness him as he goes into the wilderness to create awareness about environmental change and animal conservation."
Bear Grylls in Wales(UK): Our team who was filming( Man vs Wild) was really on the edge, but the PM(Modi) was just very calm and I saw that throughout our journey. Whatever we were doing, he was very calm. That was cool to see…What shone bright for me was his humility pic.twitter.com/Fhf0ABEGQg

— ANI (@ANI) August 10, 2019
Where was this shot?
Credits: www.mumbaitravellers.in
Jim Corbett National Park, Uttarakhand was the destination where the Prime Minister and Bear Grylls decided to shoot the episode. Bear Grylls: "It is such a privilege to be taking Prime Minister Modi on associate journey into the Indian wild and that i feel actually honored to urge to pay time with this remarkable world leader. The wild reminds U.S.A. that we need each other and together we are stronger. I am therefore excited to pay time with the PM and to urge to understand the person who leads this great nation."
Narendra Modi decided to join Man vs Wild for the episode because of the rationale environment conservation.
According to Bear Grylls, the PM was calm and collected during the shoot of the episode. He said that even in the ceaseless rain, PM Modi had a big smile on his face. Grylls added: "PM Modi has truly stayed within the jungle as a younger man and that i was shocked how comfy and calm he was out there."
"What shone bright for me was his humility. Even though there was rain and his secret services were trying to get out umbrellas, he said 'no I'm fine'. I made a raft out of reeds and a tarpaulin. I said I think we can get across the river using this, but the secret services were like 'we cannot put the Prime Minister in a little raft'. But he [Modi] said he was fine and we'd do this together. He asked me to get in too, but the things started sinking. So it was me swimming and pushing him, he was soaking wet but there was a big smile on his face even through the rain," Grylls said.
Updates rolling in:
"Never experienced fear. Never felt nervous as I am very positive. My temperament is very positive. We should not think of our lives in pieces. Always think of going up," PM Modi told Bear Grylls when asked about his desposition.
"My grandmother did not allow my chacha (uncle) open the wood shop saying the family will starve but will not harm the environment," PM Modi said. This shows that environmental conservation has been taught in some way or the other in our families. It depends on us whether we are able to join our helping hands towards the environment of today's world.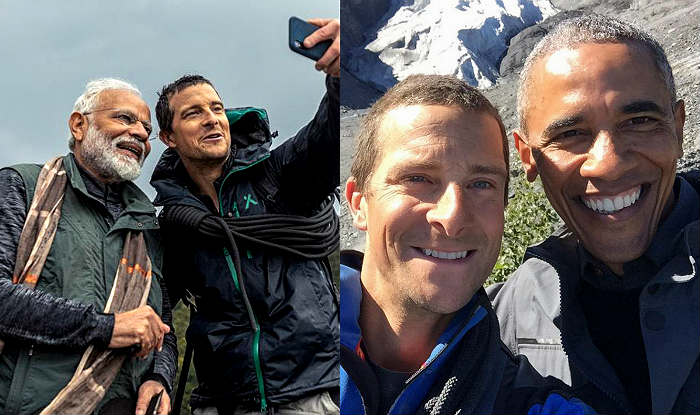 After B. H. Obama, PM Narendra Modi became only the second world leader to feature on the hit show.
"I have dedicated the last five years to the development and I am very happy. If this can be called a vacation then this would be the first time I have taken a vacation in 18 years," PM Modi said told Bear Grylls.
When Bear Grylls asked him about his aspiration as the PM, the PM said that he never thinks about who he is, "I just think about I have to do, what's my duty". He said that it's his dream to fulfil other people's dreams, so that his dreams eventually get fulfilled.
PM Modi also talked about various incidents from his childhood days. Bear Grylls teaches him to make a spear for self-protection, but he says that everything will be decided by God. He eventually refuses to use the spear.
The PM speaks about the latter part of his teenage days were spent at the Himalayas and how fearless he is. Both of them cross the river in a man-made raft and the PM explains a relatively Indian term – Tulsi Vivah to Grylls.
Narendra Modi eventually thanked Grylls and said "The people of India can make India clean. Personal hygiene is in the culture of the Indian people. We need to develop the habit of social hygiene. Mahatma Gandhi has done a lot of work on it and recently we are getting good success in this. I believe India will succeed in this very soon."
Further, the show concluded with the guest and the host's experiences during the shoot. Both were in praise of each other.
Bear Grylls Official Twitter Account: Bear Grylls || Twitter
Narendra Modi Official Twitter Account: NaMo || Twitter