"Gar firdaus, ruhe zamin ast, hamin asto, hamin asto, hamin asto."

~ Jahangir (Mughal Emperor)

The above lines mean If there is a paradise anywhere on the earth, it is here, it is here, it is here !!!
On hearing the word "vacation" the picture that immediately pops up in one's mind, is that of a place where no pain or stress exists, just pure bliss!!
Kashmir is no less than a Paradise on Earth with its snow-capped mountains, valleys, and some amazing adventure spots.
The people of Kashmir don't care whose flag you follow, whose anthem you sing. As long as the Kashmiri gets to row his shikara, herd his sheep, temper his willow bats, grow his apples and light his kangri in peace, then who's an Indian and who's a Foreigner.
The inclined meadows, craggy terrains, astounding mountains, and arrogant hills offer a perfect point for adventure activities like – trekking, hiking, rock climbing, camping, skiing, snowboarding, and Paragliding. The gurgling streams, brooks, and rivers invite you to river rafting, water skiing, and fishing/angling. The lush valley offers a great opportunity to play golf in the summers, while the same valley during the winters turns into the ice skating grounds for the visitors.  Some of the places you don't want to miss during a trip to Kashmir are:
Srinagar – The Summer Capital of Jammu & Kashmir
It lies in the Kashmir Valley on the banks of the Jhelum River, a tributary of the Indus, and Dal and Anchar lakes. The city is known for its natural environment, gardens, waterfronts, and houseboats.
How can we forget the great Dal Lake which serves as a cricket pitch during winters and for its scenic beauty during summers?
Do take a ride to Dal Lake in Houseboat.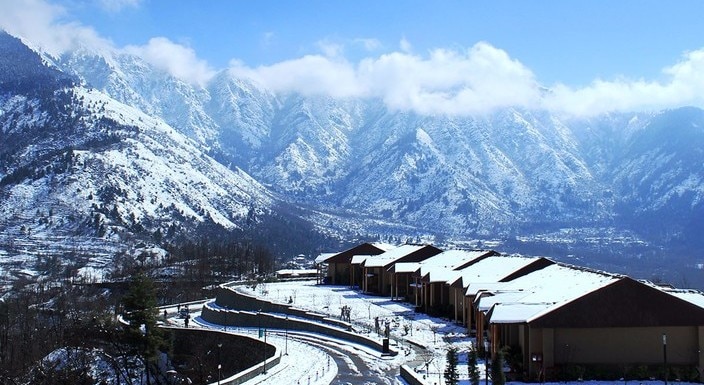 Leh- Ladakh
Ladakh is famous for its picturesque beauty, unique culture, Buddhist monasteries, and exciting adventure spots. Leh is the Ladakh's administrative capital, it is also a tourist's haven with its beautiful surroundings and monasteries, in addition to the wonderful trekking routes. You would also want to visit Kargil – the second largest city in Ladakh after Leh. It is infamous for the Indo-Pak war of 1999.
Ladakh is the best place in Kashmir for the bikers to go on a road trip
Pulwama – The city of Colour Burst
The city is just 40 km from the summer capital. Pulwama recently was much in news for the terrorist attack that took place. Pulwama is best known for its saffron fields and its rich culture. You'll be astonished to know that it is sometimes also referred to as Dudh-Kul of Kashmir due to its high milk production. You probably don't want to miss out skiing and snowboarding.
Gulmarg
It is considered to be the snow paradise of Kashmir. This place is a treat to your eyes with its spread of flowers against snow-capped mountains as its background. It has the world's largest and highest ropeways with an aerial distance of approximately 5 km. If you want to have an experience of snowfall then this should be your go-to place Of all the places in Kashmir as the snowfall here is almost throughout the year.

Pahalgam
Pahalgam offers the best illustration of heaven on Earth. It is situated at a distance of 95 km from Kashmir's capital city. It is surrounded by dense forests, beautiful lakes, and meadows of flowers. Tranquillity and Serenity are the synonyms for this city. It also serves as the base camp for the Annual Yaatra to Amarnathji Caves. Pahalgam has one of the most breathe taking views of high mountains covered with pine trees and snow.
To be honest I had Goosebumps while writing the blog and seeing the pictures of Kashmir. Kashmir has to be on everyone's bucket list along with the road trip to Ladakh.
CHALO KASHMIR !!!