In 2019, where every company is trying to conquer the market and introducing more and more eminent features to their smartphones, customers have to spend a lot of time in choosing their handset. As companies like Samsung, Motorola, Apple, and many other Chinese companies are racing to introduce a foldable smartphone, having the goal to be first with new technology. But in the latter half of 2018, a company called Royole introduced its first foldable smartphone called FlexPai. Let's talk about
FLEXPAI
Display size – 7.8 inches
Display type – OLED SCREEN
Screen resolution – 1920 x 1440
 FlexPai provides two SIM slots and an auto-detection system that only shows content on the half of the folded screen that you're facing at any given time. Royole didn't mention the chipset being used and the phone and its interface seemed to look quite laggy and didn't prove efficient for gaming and video rendering. Now, coming onto its physical overview, it actually requires a fair amount of force from the user to open and close, which gives us a reassuring sense that it can withstand rough handling. But FlexPai seems to have been engineered well enough to dispute that notion.
SAMSUNG GALAXY FOLD
At last, after endless leaks and rumours, the Samsung folding phone is official now. The Samsung Galaxy Fold has a 7.3-inch screen that folds over itself. Expected to be out in April 2019, the phone is going to set you back a whopping $1,920 (approx. ₹1,34,000), but at least you get plenty of powerful specs to back it up. Inside is 12 GB RAM and Qualcomm Snapdragon 855. With up to 1 TB storage, you don't have to worry about that aspect. A triple lens camera will give you a lot of options, including a wide angle lens. It consists of a large 4,300 mAH battery that is split into two sections because of its fold. On the software side, Samsung says you can run three apps alongside each other on the Fold. What's more, any app that you are running can switch automatically to the middle part of the screen.
HUAWEI MATE X
Huawei has made a very significant impact on the mobile market and has reached the level of Samsung surpassed Apple's market share. The Huawei Mate X was unveiled at MWC 2019, and it folds the opposite to Samsung's implementation. When fully opened, you get a full-screen 8-inch tablet along with screens on both sides. It's thinner than you might think and packages some premium specs like Kirin 980 processor with 5G connectivity. This is even costlier than Samsung folding phone and the company says it will cost around €2,299 (approx.₹2 lakhs) when the phone goes on sale this summer.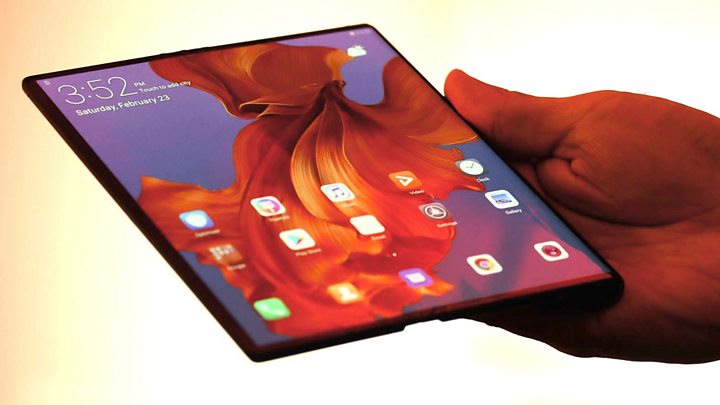 There are many mobile companies which are showcasing their foldable smartphone concepts in the coming months. These companies are OPPO, MOTOROLA Razr, LG Bendi (patented) and XIAOMI MIX FLEX.