Ethiopian Prime Minister Abiy Ahmed Ali named the 100th Nobel Peace Prize winner.
Ethiopian Prime Minister Abiy Ahmed Ali awarded the Nobel Peace Prize for 2019. Firstly, his efforts to achieve peace and international cooperation. Secondly for his decisive initiative to resolve the border conflict with neighboring Eritrea.
The youngest head of government in Africa. Moreover, the first Ethiopian to win a Nobel Prize.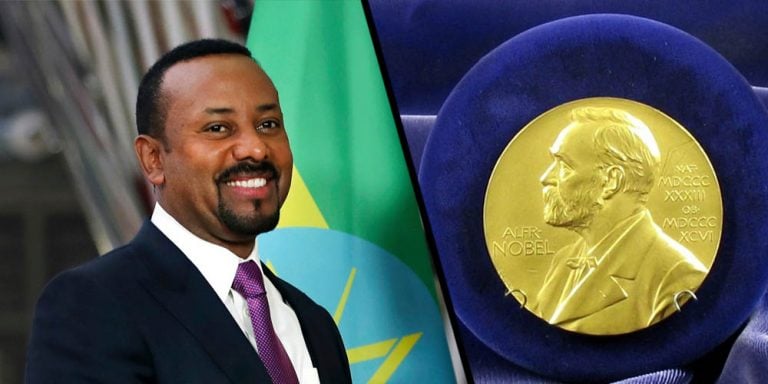 What has Abiy Ahmed Done?
He spent his first 100 days as prime minister lifting the country's state of emergency, granting amnesty to thousands of political prisoners.
Discontinuing media censorship, legalizing outlawed opposition groups. And, dismissing military and civil leaders who were suspected of corruption.
In addition, significantly increasing the influence of women in Ethiopian political and community life.
He has helped mediate between Kenya and Somalia in a maritime territorial dispute. Has also been key to bring leaders of Sudan and South Sudan to the negotiating table.
As a result, he signed the peace deal with Eritrea. As Ethiopia and Eritrea were long-time foes who have fought a border war from 1998 to 2000. Finally restored relations in July 2018 after years of hospitality.
Mr. Abiy Ahmed's background.
He was born in Ethiopia in 1976 to a Muslim father and Christian mother.
He has several degrees including a doctorate degree in peace and security issues. And a master's degree in transformational leadership.
In addition, as a teenager, he has joined the armed struggle against the former Derg regime – a communist military junta that ruled Ethiopia from 1974 to 1987.
UN peacekeeper in Rwanda.
As a result, he joined politics in 2010, becoming a member of the Oromo People's Democratic Organisation, before being elected as a member of parliament.
What does a Nobel prize winner get?
A Nobel diploma,
A Nobel medal,
A cash prize of 9 million Swedish Krona.
The prize ceremonies are held on December 10 at Stockholm and Oslo.
Who decides the winner?
A committee of five from the Norwegian Parliament, known as the Norwegian Nobel Committee, selects the winner as of the Peace Prize. The committee sorts through nomination made by academics, previous prize winners and senior government officers.
"In Ethiopia, even if much work remains, Abiy has initiated important reforms that give many citizens hope for a better life and brighter future" Nobel Peace Prize Committee Chair.