Moscow's coldest temperature during winters is -14*C. However, it is a completely different city during summers. Summers are arguably the best time to visit Moscow. In addition to the spectacular rooftop cafes, romantic verandas and multiple options for outdoor fun, Russia's capital offers a variety of events to every taste. From theater festivals to music gigs to firework competition – here's a list of Moscow's summer fests you definitely should visit.
1. Moscow Flower Show:
June 29 – July 9
For a person who admires floral beauty, Moscow Flower Show is worth paying a visit. It is held on the grounds of the Moscow International Festival of Gardens and Flowers . This venue holds the largest annual event in landscape architecture in Russia, attracting more than 80,000 visitors all over the world. Some of the top professionals from Europe and the USA come and display their finest arts. The main event that takes place in the Festival is the International Competition of Landscape Design and Gardening Art. Awards are given under the nominations of Heritage Gardens, Gardens of Russia, Garden in the city, Kindergarten, Vertical City, Show garden, Land-art, Art in the Garden.
2.International Fireworks Festival:
August 19 – August 20
ROSTEC is the largest international festival of pyrotechnical art that occurs every year during the summers in Moscow. The leading pyrotechnical teams around the world representing their countries, come to take part in the show and to compete for the main prize. This fireworks festival takes place in Brateevsky park, Moscow. Th daytime program includes sport and art activities, quests, lectures, family games, music concerts, food court is waiting for the guests of the Festival! After that, the main fireworks show takes place during 21:00 – 22:30. The world's 8 best teams prepare pyrotechnic shows in accordance with the contest task and compete with each other. Four countries perform each day representing their countries.
3.Chekhov International Theater Festival:
May 24 – June 20
The 13th Chekhov International Theater Festival starts from May 24.  Argentina, Belarus, Great Britain, Germany, Spain, Italy, China, Russia, Taiwan, France, South Africa, and Japan are the 12 different countries that perform 19 stage performances on different genres. Usually, this festival is known as Chekhofest, the event's program is segregated into two different parts. Foreign participant's plays will be shown in the World Series. While the Moscow Program will feature recent productions staged by foreign directors and choreographers from Moscow theaters. Participants consider participating in it was a great honor for any performer.
4. Usadba Jazz Festival:
July 1
How many of them have Jazz as their favorite form of music.? then attending the jazz festival of Moscow will satisfy your desire to hear the best jazz. It is the most awaited jazz festival of Russia, "Usadba Jazz" is a perfect mixture of atmospheric environment and high quality jazz. Like every year the Arkhangelskoye Estate of the 18th century will host the festival featuring 4 different stages and 18 jazz bands from Russia, the USA, Israel, the UK, Georgia and Norway. The 14th festival has gathered so many star headliners, Gregory Porter, Esperanza Spalding, Robert Glasper . You'll have a hard time to convince yourself to leave that place after the concert.
5. Nashestvie:
July 7-July 9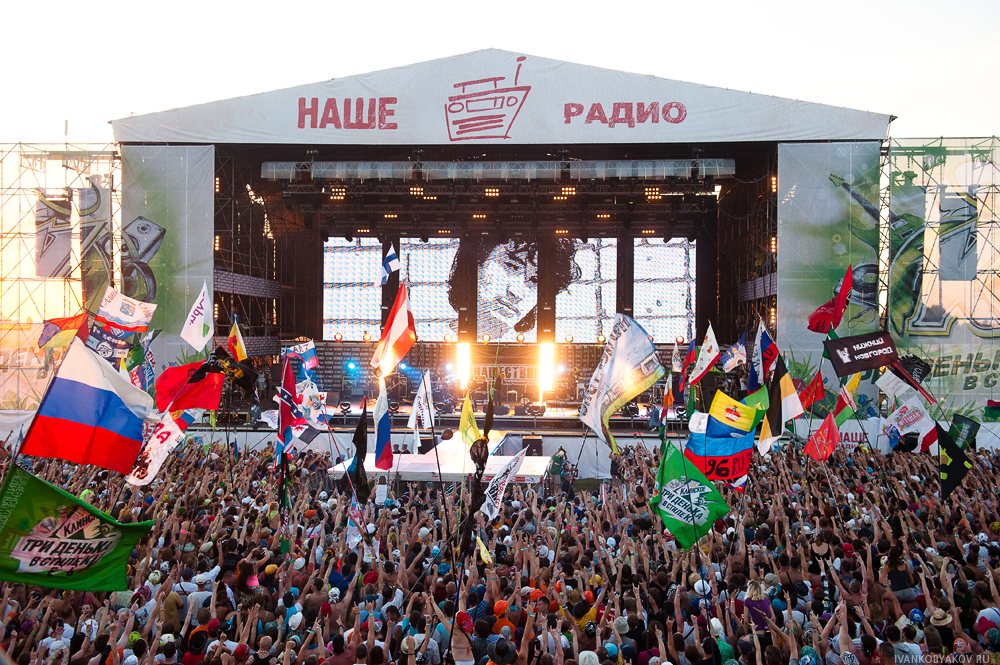 The most exciting fest of Moscow is the Nashestvie. Which literally means "invasion". Russian rock music is focused in this open air event. Previously till the year 2007 it was conducted indoors, but later on,it became an open- air event. Launched by one of Russia's most popular rock stations Nashe Radio, this festival is considered a land of opportunities. In other words, it is a perfect place to see both established and emerging musicians from Russia and the former USSR. Nashestvie is participated by a majority of Russia's most popular rock artists such as Aria, Alisa, Agatha Christie, Splean,  bands from Ukraine and Belarus, such as Okean Elzy also take part. Most of the headliners represent usual Nashe Radio playlist. Bands are usually not paid for participating in Nashestvie unlike those participating in rival Krylya Festival. Above all, the festival is used as a free promotion for them. Some of the bands, namely Epidemia and Melnitsa, that begun their Nashestvie history in "genre ghettos", recently started to play on the main stage.
In conclusion, we would now have understood why the orthodox monk Philotheus (Filofei) named Moscow as the Third Rome. Moscow like Rome stands on seven hills providing a spectacular view from there. In Addition, it is always important to check out the weather before stepping out of our homes or hotel rooms. You can check out the temperatures timely on the link given below.
https://www.accuweather.com/en/ru/moscow/294021/current-weather/294021
Comments and suggestions are welcome.