My Waste, My Responsibility: 30 Mumbaikar's appeal to the public
We like to travel, we like to eat and we like to litter too. But what we do not like is being held accountable for that. My Waste, My Responsibility: 30 Mumbaikar's appeal to the public to man up and take responsibility for their deeds. It is an initiative, a drive to make India clean.
"Mumbaikars should be environment sensitive and avoid littering. Birds and animals in the vicinity are harmed by this non-biodegradable waste too. We need to increase awareness. There are quite a few bollywood celebrities, who care about the environment and it would be really great if they could talk about waterfall clear up on their social media. This will surely give this drive that boost it needs. We need to save our beautiful waterfalls."- Dharmesh Barai
We love to go outside especially somewhere with picturesque beauty. The waterfall makes a great place for enjoying nature at its best, and Mumbai has lots to offer in that regard. Yeoor waterfall, Pandavkada falls, Powai waterfall; to name some provide a perfect getaway for people to leave all the hustle and bustle behind them and have some peace.
We visit a place, spend quality time with our loved ones, come back to our homes with rested souls leaving behind our worries and waste; including plastic wrappers, water bottles and other non-biodegradable products. You heard it right, we do it all the times without feeling any guilt of our actions. We do not think, even for a minute, just throw it away and walk ahead.
People hear on television, radio, twitter and facebook too about all the harmful effects of this non- biodegradable waste. We criticize people for doing that and then when it comes to us we turn a blind eye to it. Why do we always forget about the duty that we must adhere to?
On this independence a day
A group of people from 8 to 65 years took the initiative to clean near about 16 waterfalls in Mumbai. The waterfalls they visited include Tapalwadi, Jummapatti, Khopoli, Vadap, Pandavkada, Chinchoti, Prabalmachi, Anandwadi, Kondeshwar, Bhivpuri, Palasdari, Ambevadi, Kharghar. They collected more than 10 tonnes of garbage and disposed it properly, kudos to them for their efforts.
The name of their team is 'Environment Life Team' and their motto- "My Waste, My Responsibility." This group of 30 environment enthusiast under the guidance of Mr. Dharmesh Barai appeals to the public to not litter at these waterfalls.
"People treat waterfalls like picnic spots and enjoy but don't clean up afterward. Since many waterfalls are not designated picnic spots there aren't garbage bins and the villages nearby do not even have ghanta gadis to pick up the garbage. The Nagar Sevaks at the remote areas says that the limited funds they have do not help them to arrange for garbage collection from there," Dilip Khandkar, a 64-year-old, member of the group.
They are doing this act of kindness since 2nd October 2016. These people do not get paid for it. They do it to make a difference to protect what they could. They love mother earth and are doing their part to keep it clean. The question of the hour is- are you doing your part?
We never litter at our home so why at public places? Why do we forget that we are living here and it is our duty to keep it unpolluted and hygienic? We must take this duty of cleanliness to a tee. If we throw something then we must throw it away properly in the dustbin; not on a street, not on a road or at any wrong place.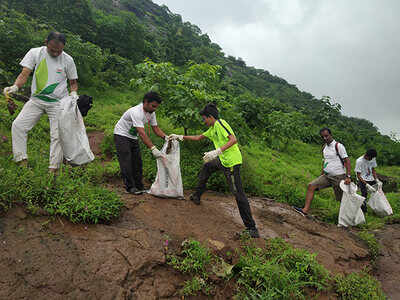 We are citizens of our country and we must do our part however small that may be to keep it unsoiled and pollution free. We must get together or if alone do what we can in this drive to make India clean.
Do watch this video. https://www.youtube.com/watch?v=1Uy4cJkkgpg