"A lot can happen over coffee "
The above tagline is given by the company "Cafe Coffee Day", which is one of the largest Coffee production and exporting business. This famous company was built by Mr.V.G Siddhartha, who created opportunities for tens of thousands of people by establishing Cafe Coffee Day.
Who is V.G Siddhartha?
V.G Siddhartha was considered one of the most successful entrepreneurs and philanthropists of the 21st century. He also served in the Board of directors of Mindtree, GTV, Liqwid Krystal, Way2wealth Brokers, Coffee Day Natural Resources, Way2wealth Securities. He was awarded the 'Entrepreneur of the year' for 2002-03 by The Economic Times and the 'NextGen Entrepreneur' by Forbes India in 2011.
Early Career:
After completing his Master's degree in Economics from Mangalore University, Siddhartha came back to his home-town where his father advised him to join the family business, but the ambitious Siddhartha refused as he wanted to start something on his own, designed by his own.
Agreeing upon it, Siddhartha's father gave him Rs.5 Lakhs for a jumpstart and said that if it doesn't work out for him, he is always welcome to Family's Coffee production and exporting business.
After acquiring the amount, Siddhartha bought a piece of land worth Rs. 3 Lakhs and rest he transferred in his bank account. He then started working as an analyst under JM Financial and Investment Consultancy at Mumbai under the leadership of Mr.Naveen Bhai Kampani. Later, he exercised the investing field and started handling big organizations.
Last, he decided to do something on his own. He thanked Mr. Kampani and later moved to Bangalore with Rs. 2 Lakhs still with him. So he bought a stock market card for Rs.30,000 and also took over a company called Sivan Securities which is now known as Way2Wealth Securities Ltd.
By 1985, He became a full-time investor in the stock market and also owner 10,000 acres of land. When coffee trading got liberalized in the '90s, he started investing in a coffee plantation and exporting startup called ABCTCL.
The Coffee business:
Amalgamated Bean Coffee Trading Company Ltd (ABCTCL) is a company based on Coffee Exports. Within two years, it became the second-largest coffee exporter from India, exporting a whopping amount of 20,000 tonnes of coffee beans annually. Siddhartha was inspired by 'Tchibo' coffee brand originated from Germany.
In 1996, He opened the first CCD shop on Bangalore's crowded Brigade Road. Due to his strategy of offering internet with coffee, CCD was a real-time success. While CCD was taking time in expansion, Rivalries began to appear.
So, Next approach was to open CCD beside rival coffee shops and due to its awesome specific audience-targeting strategies and overall marketing in IT Sector through:-
Facebook
Twitter
YouTube
Television
Sales Promotion
Cafe Coffee Day's First Advertising Video:-
Credits: Cafe Coffee Day
which made CCD a Revolutionary coffee chain.
By opening Cafe Coffee Day, V.G Siddhartha not only created a multi-billion dollar business but also introduced India to the world of coffee and also created opportunities for many people. He faced many huge debts, defaults, loss of ownership and attracted savage newspaper deadlines, but he never gave up. Siddhartha was the person who took an Indian brand to the world and he will always be considered as the "Coffee King Of India".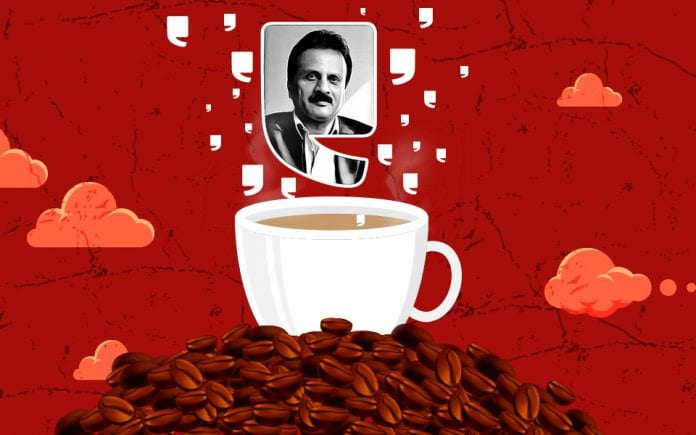 V.G Siddhartha was found dead on July 31st, 2019, at the Nethravathi river near Mangalore. He had stated some reasons due to which he took this severe step. Tremendous pressure from lenders and private equity partners, forcing him to buy-back company shares and I-T trying to block his MindTree deal and taking control of CCD shares, although they filed a revised return.
His Story has truly inspired us all and He will always be remembered forever.