Well, that may be completely obvious to you.
Of course, I am, what do you think I am stupid?
Okay then, one quick question –
How many people in the world have some access to electricity?
A. 20 %     B. 50 %     C. 80 %
You feel like making a guess? It's not just you, but thousands of "Educated" people in the world were asked this question, and guess what? Only about 10 % out of all people knew the answer to this. That, my friends, turns out to be less than the success rate of Chimpanzees – a staggering 33 percent! ( that too out of pure random behavior). The Answer is C. If you got it right than Kudos!.
This one book recently changed my whole perspective of the world. Factfulness: Ten Reasons We're Wrong About the World—and Why Things Are Better Than You Think. – Hans Rosling 
"One of the most important books I've ever read – an Indispensable guide to thinking clearly about the world" – Bill Gates
Glimpse Inside
This book is going to bombard you with Facts, but trust me you need it. The Author talks about ten inherent instincts, which shadows our view of the world. Have you wondered why news channels only tend to focus on dramatic bad things happening around us? Let's be honest, who would want to hear about something good happening? That isn't simply interesting enough!.
These very news channels, show us pictures of poverty-stricken communities in India and around the world, and instill in us a distorted picture of reality.  Its only for a fact that when we only look at a graph like this –
do we realize of how the world has improved tremendously over the years, that better healthcare, education, and facilities are becoming available to everyone and the world is becoming a better place to live in. Most importantly, the author divides the world into four levels –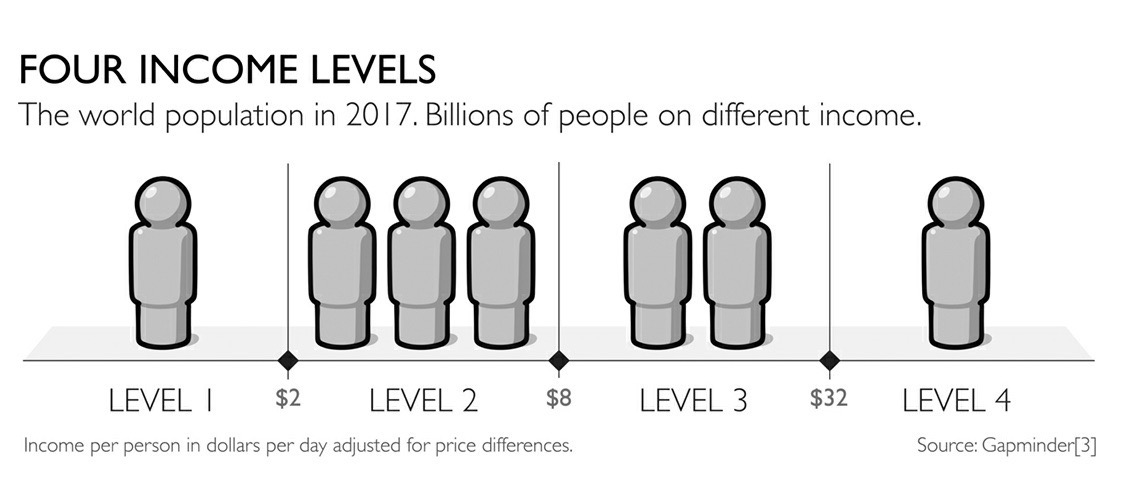 In his opinion, there is no such thing as a developed country or a developing country!.
Verdict
The late Hans Rosling, a brilliant Swedish physician, and a global health lecturer, does a fantastic job of "educating" us. That we should be humble about what we know and even experts can have misconceptions. He relieves us from our inherent biases and makes us have a fact based approach. It is no wonder that Bill Gates has recommended this book in his " 5 Books worth reading this summer " collection.
Overall Factfulness is a fabulous read. Anyone, from high school kids, graduate students, homemakers, anyone with an interest to expand his/her knowledge about the world and learn something worthwhile, should check it out. Who knows, you may end up being a much better version of yourself!. It is personally one of the best books I have ever read, and you should read it too.
https://www.amazon.in/dp/B0769XK7D6/ref=dp-kindle-redirect?_encoding=UTF8&btkr=1