Ajanta and Ellora are beautifully carved out rock-cut caves which are located near Aurangabad of Maharashtra, India. These caves are a perfect example of diversity in spirituality as well because both of these caves state a perfect amalgamation of Buddhist, Jain, and Hindu monuments. Ajanta caves account to 30 in total and Ellora to 34. These caves were built in the period between the 6th and 11th centuries AD.
History of Ajanta
Ajanta caves were discovered by chance with the help of a British officer in 1819 while hunting tigers. Though it's claimed that the caves were well known by the locals already. Since then it continued to be a glory in the historical and archaeological pride to the country. The beauty of these caves is that they elaborate Buddhist ideologies, beliefs with a brief elaboration in the form of carved out paintings. To make it better for tourists the caves are numbered but still not in a chronology.
They were built in a set of two phases, centuries away from each other. The first set of caves were built in the 2nd century BCE and the second set of caves were built in the 5th century. Initially, these caves were built by King Upendragupta.
History of Ellora
Ellora was also known as Elura and Elapura in ancient times. It was built during the 6th to 8th century CE in the Sahyadri hills in Aurangabad. It is a 2 hours drive from Ajanta caves. Ellora caves were also used as accommodation by Buddhist and Jain monks who used to travel. It was a popular site for the trade route. There are a total of 17 Hindu caves, 12 Buddhist and 5 Jain caves. These Jain caves were built by the Yadava dynasty. A part of Hindu and Buddhist caves were built during the Rashtrakuta dynasty.
Timings, Entrance fees, and Transportation
Ajanta Caves: The caves are open for visitors every day except for Mondays. The visiting hours are between 9 am to 5 pm. The ticket for an Indian tourist is Rs 40/- which is also the same for the tourists from SAARC and BIMSTEC countries. But a foreigner needs to pay Rs 600/-. The entry fee for children under the age of 15 is free. The best part is that booking tickets are now convenient as they have started online booking with the help of websites like Yatra.com, BookMyShow, etc.
Transportation: The nearest railway station is Jalgaon city of Maharashtra which is about 60 km from Ajanta. The nearest airport is Aurangabad airport which is a domestic airport and connects to cities like Mumbai, Delhi, and Hyderabad.
Ellora Caves: The caves are open for visitors from 8 am till 5:30 in the evening but with an exception on Tuesdays. The ticket for an Indian, SAARC and BIMSTEC tourists is Rs 35/-. For a foreigner, it is Rs 550/-. The tickets are also available online.
Transportation: The nearest railway station is Aurangabad of Maharashtra which is about 28 km from Ellora caves. The nearest airport is Aurangabad airport, about 35 km from Ellora caves. The nearest bus stand is the Central bus stand in Aurangabad.
Attractions and Architectural beauty of Ajanta and Ellora caves
Ajanta caves:
The sculptures in these caves were built by monks who used hammer and chisel to carve them. The monks used the caves as a refuge during monsoon season.
These caves had many stupas and pillars which were precisely dealt with some beautiful carvings on it.
There was an ironic situation as it's said that Buddha did not embrace the idea of painting images and sculptures of him but after his demise, his followers made his paintings for worship purposes and also depicting his life.
Ellora caves: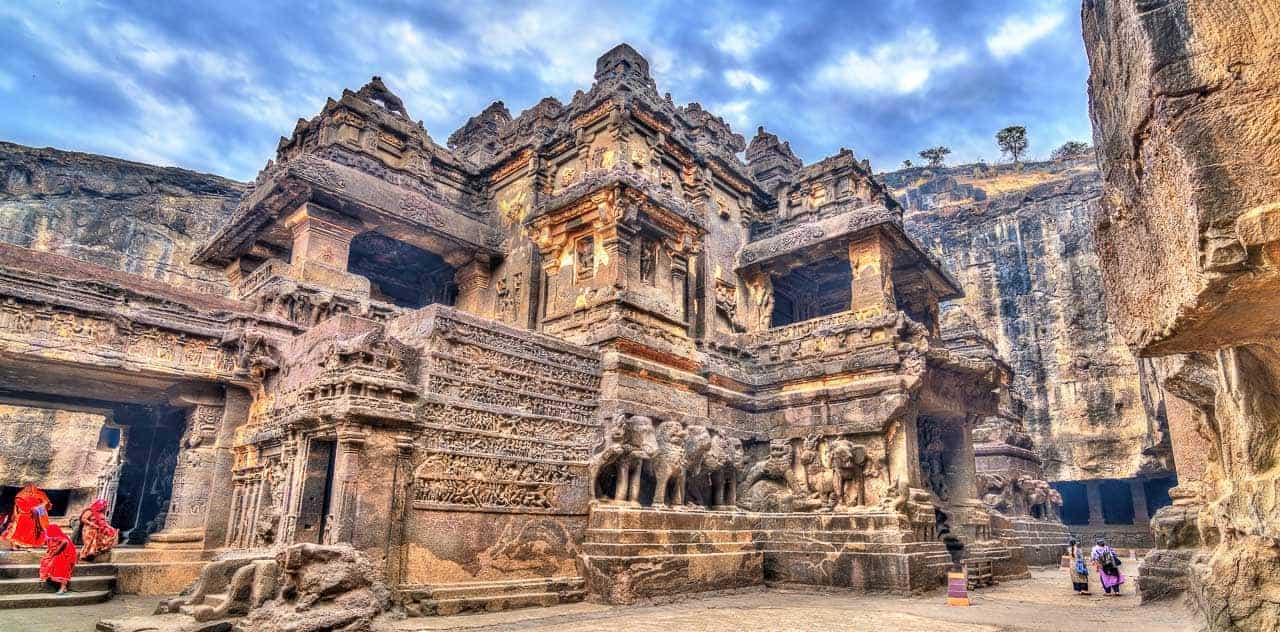 They are locally known as 'Verul Leni'.
Cave 21 which is the passage of Ramesvara is blessed with river Goddesses 'Ganga' and 'Yamuna'.
Cave 16 which is also famous as 'Kailasa Temple' is called out for its beautiful architecture and the very fact that it's cut out from a single rock.
Here are some short clips for you to enjoy: