Dhyan Chand was born on 29 August 1905 and was an Indian hockey player. He is considered to be one of the greatest hockey players of all time and earned three Olympic gold medals in 1928, 1932 and 1936, he was known for his extraordinary goal-scoring feats during the era of Indian dominance. His influence helped India win the field hockey event in 7 out of 8 Olympics from 1928 to 1924. It is also believed that Adolf Hitler offered him a senior post in the German Army after India defeated Germany in the 1936 Olympics final 8–1. The offer was, however, rejected.
Let's have a look at his life – the life which is dreamt of by millions around the world, let alone Indians.
Chand played internationally from 1926 to 1949, and was nicknamed "The Wizard or The Magician of Hockey". The Government of India awarded Chand India's third highest civilian honour of Padma Bhushan in 1956. His birthday, 29 August, is celebrated as National Sports Day in India every year.
Dhyan Chand was born in Allahabad on August 29, 1905 in a Rajput family. Chand's sibling was Roop Singh, another hockey player. The family settled in Jhansi, Uttar Pradesh, India. Dhyan chand graduated from Victoria College, Gwalior in 1932. Being in the military, his father got a small piece of land for a house.
Though he loved wrestling, young Chand wasn't inclined towards sports. Although he was occassionally indulged in sports,  he stated that he did not remember whether he played any hockey worth mentioning before he joined the Army. He used to practice a lot during the night, and to improve the visibility in the field, he used to wait for the moon to come out. Hence, he was called 'Chand' by his fellow players, which literally means the moon.
On 29 August 1922 – his 17th birthday – Chand enlisted in the 1st Brahmans of the British Indian Army as a sepoy (private) and between 1922 and 1926, Chand exclusively played army hockey tournaments and regimental games. Chand was ultimately selected for the Indian Army team which was to tour New Zealand. The team won 18 matches, drew 2 and lost only 1, receiving praise from all spectators. Following this, in the two Test matches against the New Zealand squad, the team won the first and narrowly lost the second. Returning to India, Chand was promoted to Lance Naik in 1927.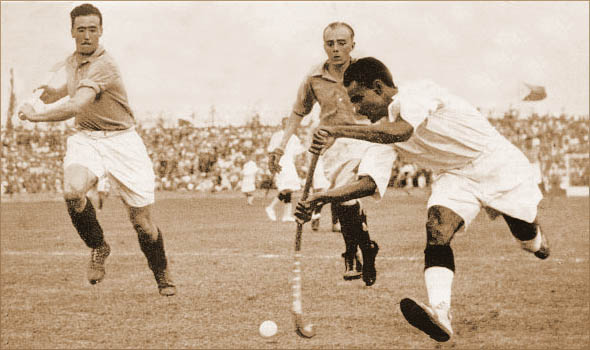 The newly formed Indian Hockey Federation (IHF) made preparations to send its best possible team for the 1928 Amsterdam Olympics after successfully lobbying for reintroducing field hockey in the Olympics. An Inter-Provincial Tournament was held to select the team members in 1925. United Provinces (UP), Punjab, Bengal, Rajputana and Central Provinces participated in the inaugural nationals. The United Provinces team gave Chand permission to play after the request was approved by the Army.
His Legacy
     Dhyan Chand's skills have been lauded in various spurious stories and anecdotes, a number of them revolving around the fact that Singh had extraordinary dribbling skills. The National Sports Day in India is celebrated on Chand's birthday, 29 August. On this day, the President gives away sport-related awards such as the Rajiv Gandhi Khel Ratna, Arjuna Award and Dronacharya Award at the Rashtrapati Bhavan, India.
Years after his demise, he was awarded the 20th National Award 2012, the Gem of India, by the Union Minister of India. The award was received by Dhyan Chand's son, Ashok Dhyan Chand on behalf of his deceased father.
The Dhyan Chand Award is India's highest award for lifetime achievement in sports. It has been awarded annually from 2002 to sporting figures who contribute even after retirement. The National Stadium, Delhi was renamed Dhyan Chand National Stadium in 2002 in his honour.
He scored over 400 goals in his career, from 1926 to 1948.
A hostel at Aligarh Muslim University, of which he was an alumnus, has been named after him.
An Astroturf hockey pitch, at the Indian Gymkhana Club in London has been named after him.
He remains the only Indian hockey player to have a stamp in his honour.
The Bharat Ratna was awarded to Sachin Tendulkar and C. N. R. Rao in 2014, and Dhyan Chand was among the nominees for the award. The family members of Dhyan Chand were disappointed with the government's decision and a RTI was filed. This suggested that the Prime Minister's Office had ignored the recommendation from sports ministry on giving the award over Sachin Tendulkar.